If you're one of those people that aren't crazy about updating your device to the latest model, got your device before they were booming, or just have an old iDevice sitting around with nothing to do with it this may be for you. The untethered iOS 4 jailbreak has been around for quite a while and is quite straight forward to execute on the iPod Touch 2nd Generation or iPhone 3G. This also works with pretty much any other device but probably isn't of use as those devices are on higher firmwares by now. So for some people that are anxious to jailbreak their spanking new iPhone, or fairly new model iPod Touch, try your hand at jailbreaking one of your older devices without the worry of slowing it down or messing it up to much, but getting a sense for what its all about. Or maybe you still use your old version iPod Touch 2G, or iPhone and finally decided to jailbreak it.
Preface
Before starting, let me put in two cents about the iPhone 3G and iPod 2G. The reason why I'm doing 4.2.1 in particular is because that is the
latest firmware
that either of these can update to. The cause for this is because the complexity of the newer iOSs has finally surpassed their processing power. Users of these devices have probably noticed that their device got buggier, laggier, and slower as they approached the final 4.2.1 update, which testifies to the fact that Apple must have thought that this was as far as they could go for compatibility for these devices. The untethered iOS 4 jailbreak also works for other devices, but is probably of no use for most users that are on a higher firmware.
Prerequisites
Check to see if your device is running 4.2.1 by going to
Settings>General>About: Version
If it is a lower version, download the proper firmware for your device from
here
, plug your iDevice into iTunes, click on the Device on the sidebar, hold Shift (Option on Mac) and click Restore. Browse to the firmware and restore your device to it. You should back up all files as they will be lost if restored. If your device was NOT previously jailbroken, you can do Shift + Update and no files will be lost, but it is recommended that a restore is done for the best outcome.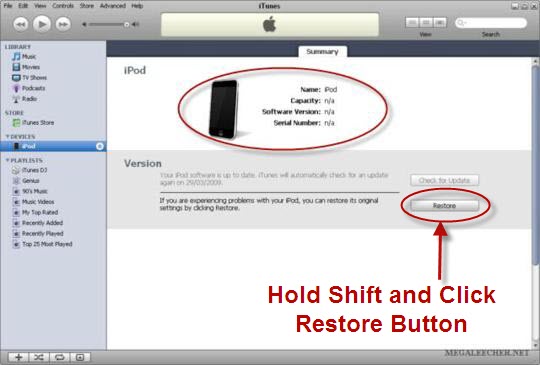 You must have one of the following devices:
Verizon iPhone 4 (iOS 4.2.6)
Instructions:
2. Plug in your device and backup your files in iTunes
3. Extract the .zip file for Greenpois0n (Right-click Extract or go in the folder and click extract)
4. Launch Greenpois0n and click Jailbreak (while your device is plugged in)
5. It will tell you to put you iDevice into DFU mode (follow the instructions on the screen which will be bold to tell you what the current step is);
Press and hold the sleep button for two seconds

Continue holding sleep, press the home button for 10 seconds

Release the sleep and hold the home button for 15 seconds

If you mess up it will give you an error message, just try again
6. The jailbreak process will began as soon as you are successful. Eventually, a complete button will appear at the button of the window; click it.
7. Finish! Wait for your Device to reboot (don't mind any crazy things it does) and you should see the Cydia app appear as one of the apps.
8. If your not sure what jailbreaking is all about or what to do from here, visit this page!