So you've jailbroken your iPhone or iPod Touch? Now what? You have probably become at a little familiar with the app Cydia, shown here, the fundamental backbone of any jailbroken device. Jailbreaking yields an innumerable list of opportunities on what to do with your iPod. The wrong way to go about handling it though is going around and downloading every Cydia application you can find as it will lead to problems in slowing down your device and potentially messing it up (despite what some may say). Tweaks are some of the best features Cydia let's iOS users implement into their device because the change they make isn't massive, but it can have a worthwhile effect for the user. So without going overboard, here are 5 must have Tweaks from Cydia! (No particular order)
1. Barrel
When many people go down the path of jailbreaking their iDevice they expect a golden jewel to be waiting on the other side of their endeavor to make their actions confirmed as worthwhile. To newcomers this is usually making their device into some awesome machine to wow their friends and family. I'm happy to say that Barrel does just that.
Barrel is a tweak in Cydia that alters the animation that occurs when swiping between pages. Pretty simple, huh? Well it makes your iDevice much more unique and entertaining to use (not so surprisingly). After downloading it you can choose which swipe transition suits your needs, whether you want something spinny and flashy or something subtle yet effective, as the settings for the app come with many customization options. Wanna see some of the effects? Here you go!
2. Infinidock
One of the more common tweaks that you may have heard of is Infiniboard. This, also being a decent tweak, allows the user to scroll upwards and unlimited distance on any given page. This may be cool, but I somewhat fail to see the use of that as it doesn't save that much time to have to scroll up rather than to the side. More or less a tweak just to impress friends.
Another tweak that may be able to match the one I am about to show you is also included in the tweak but isn't as relevant as its main feature. There are multiple tweaks out on Cydia entitled along the lines of 5 Icon Dock, which do exactly as they say; they bump up the conventional 4-Icon Dock to 5 or even up to 9 in sum cases! I'm sure you can see how this would make the dock (bottom part of screen) much more cluttered than it needs to be, therefore it is not the best solution to sped up app access.
This brings us to the tweak
Infinidock
! Infinidock combines the efforts of the two prior tweaks and makes a dock that is scroll-able, therefore assuring that it is not cramped and that it is located on every page. This is why this app is quite efficient and it allows you to quickly access the string of go-to apps you have, withouth limiting you to 4. This earns Infinidock a well earned spot on the must have Cydia tweaks!
3. Activator
Believe it or not, if you are even a short-time jailbreak user, you probably already have this tweak (arguable an app) installed whether or not you know it! Activator, being such a versatile app, comes with the installation of many other packages such as Display Recorder and Graviboard on Cydia. This is for a good reason. Activator has so many ways to use its simple yet effective features that it becomes one of the most revolutionary but overlooked tweaks in Cydia. So what is Activator?
This tweak allows you to initiate a set action from anywhere on your iDevice with a designated trigger
. As more and more updates are being added to Activator, the developers are thinking of more and more creative yet resourceful triggers to add to the package. Some of the triggers include a short press of the home button, swiping the status bar down, and even shaking the device. Once you access the easy to use interface of this app in settings, you can program a certain app to open or service to start as a result of a given trigger.
For example, if your a big user of Twitter and don't want to have to go to the app to open it each time, you can program Twitter to open with the shake of your device. Alternatively, you can toggle your WiFi or Data usage with the simple hold of the home button.
What's more is that this app is always in the works making it compatible with any iOS Firmware and adding new and innovative triggers for the users disposal. And...it's free!
4. SBSettings
By now it is probably common knowledge that the iDevices fall short of the Androids in the field of the notification bar. The notification bar simply defines the top bar of the screen and which you can expand by swiping down to reveal more features. Although iOS has implemented this in their recent iOS 5 and iOS 6 firmwares, it is still not as responsive or customizable as the Android which has special buttons, toggles, and easily accessed information. This can all be compensated for with one of the most popular tweaks on the market.
SBSettings is a highly customizable notification dashboard which allows you to toggle things such as WiFi, SSH, Data, Airplane Mode, Ringer Volume, Brightness, and much more! In fact, there are multiple add-ons to this tweak-like app in Cydia up for grabs which include themes to make it look better or even extra buttons and toggles. SBSettings is activated by the method of your choice using Activator, so it is accessible at any given time or place. It's main goal is to give the user complete and rapid control of their device and it does so exceptionally.
The only shortcoming of SBSettings is that it takes up a bit of RAM power. It is probably not the best idea to run this on older (1st or 2nd Generation) devices that are already slowed up because they are somewhat outdated. However, if your are the proud user of a more recent iOS device, this will have an unnoticeable effect on your device.
Believe it or not it is available for all firmware updates! Currently, it is not up for download on iOS 6 devices, although it probably will be in the near future. In the mean time, use this
tutorial
to run a makeshift version on your iOS 6 Device if you cannot find it on Cydia.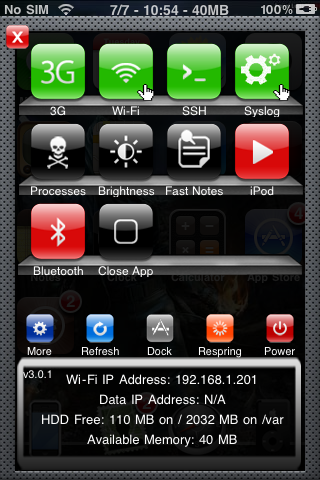 5. SwipeSelection
If you've ever typed extensively on an iPhone, iPad, or iPod Touch, you've indubitably realized how difficult, slow, and tedious it is to select text to edit or move your cursor at times. If only there was an easier way to maneuver that cursor or highlight text.
Swipe Selection is an app that does just that and quite exceptionally. After installing it, you are able to edit, select, and manipulate writing much more easily. By holding your finger down on the keyboard and moving it around, the cursor moves with it! So sliding side to side is mimicked by the cursor and the vertical movements are carried out similarly. Additionally, for faster movements...use two fingers!
Also, the selection feature on Smart Devices in general is executed poorly on many devices. Holding down and sliding on the text has always been a pain, especially when all the text isn't on one page and it requires scrolling to reach like a search bar or email. Well, with SwipeSelection this is made exponentially simpler. All you have to do is simply hold down the shift key and then move the cursor similarly to before. This time, however, all the text the cursor passes over will be highlighted and available to be copied and pasted.